2017 SRCHA Pre-Futurity & Horse Show
August 15, 2017 @ 8:00 am

-

August 20, 2017 @ 5:00 pm
Event Navigation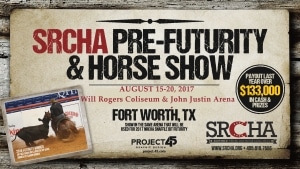 ---
John Justin Arena Webcast
Will Rogers Coliseum Webcast
---
SEE UPDATED SCHEDULE 8/14/17   Open Derby Herd work will now be on Wednesday after the horse show.
August 2017 Schedule
8/11/17  Stall Chart and Stall With List.  If you have changes let me know, however, the shavings list has already been sent to the facility with the stall numbers listed so it will be hard to change at this point.  IF your shavings is not correct, it can always be fixed at the show, same with stalls.  Send email if you have changes and we will note it and it will be fixed at the show.    Below find the Stall with List as well as the 4 areas of stalls that have been used.
Stall Chart for the Burnett Stall Area 1 Stalls
Stall Chart for the Burnett Stall Area 6 Stalls
Stall Chart for the Cattle Barn 3 Stalls
2017 SRCHA Pre-Futurity & Horse Show
August 15-20
Same arena that the NRCHA Snaffle Bit will be held
Will Rogers Coliseum/John Justin Arena
2 NRCHA/AQHA/SRCHA Approved Shows
NRCHA Derby & NRCHA Futurity
Practices available
We will not have AQHA Reining & Ranch Riding at this show
IMPORTANT INFORMATION REGARDING THE SHOW.  PLEASE READ THE RULES AND CONDITIONS
HOW TO ENTER
July 17th is the due date for entries.  This will be strictly enforced.  Draws for all horse show classes  will be Noon the day before the class runs.  The aged event classes will be drawn August 8th.  You can draw out anytime before the draw and receive a full refund.  If you draw out after that time there is no refund of any fees.  You can make changes to your entries until the draw (examples:  rider change, division addition, etc.) after that there are NO changes to the entries.  Late fees will be added to any one entering after the dealine for horse show classes and 25% of the entry fee for aged event classes.  You must send all of your paper work for your entry (horse papers, rider cards, designate rider, stall requests, class choices and form of payment) before your entry will be accepted.
Conditions 2017 August Pre Futurity & Derby (Click this link for Conditions)
ENTRY FORM MUST BE FILLED OUT COMPLETELY
Owner/Rider must be a current member of NRCHA/SRCHA
AQHA current Membership/Exhibitor ONLY, pay $5 Drug fee per show
Office Fee $35 per back # (Credit of $35 if entry received on or before JULY 17TH)
A COPY OF THE REGISTRATION PAPERS, OWNER/RIDER NRCHA MEMBERSHIP CARDS MUST BE INCLUDED WITH THIS ENTRY.  Send to SRCHA c/o Gay Lenz 11587 Hunt Lane, Guthrie, OK 73044. Phone (405) 818-7556  Fax (405) 730-8050 email: entry@srcha.org
Make Checks Payable to:  SRCHA
Credit Cards Accepted (Master Card & Visa) (5% Charge)
Payment must be made before entry will be accepted
FORMS
Forms are printable, scroll down for online entry forms.
Aged Event entry form August 2017 Updated 8/10/17
(Futurity/Derby/Practice Entry form)
HS entry form August 2017 (Horse Show Entry Form)
Stall Form August (Use this form for multiple stalls)
ON LINE ENTRY FORMS
Click This Link For The ONLINE Entry Form (All Classes)
Click here for Online Stall Form
HOTEL INFORMATION
Hawthorn Suites Ft. Worth
1701 S. University Dr.
Ft. Worth, TX 76107
817-870-1011
Group Code: CGSRCH
CUT OFF DATE 8-11-17
$89.00
Queen bed + Queen Sleeper Sofa, Breakfast included in the rate