OUR NEXT EVENT
October SRCHA Fall Festival, October 19-23, Amarillo, TX
What great fun we had at the Rode To Reno Event in Fort Worth this year. Great entry numbers and paying out over $133,000.00 in cash & prizes.  Can't wait for next year. Look for our show next year to have a NEW name and be another great show.  Our show will include the same events as this year but show casing the Pre Futurity horses in the same pen they will be using for the NRCHA Snaffle Bit Futurity that will be held at the same venue in October of next year.
Some comments regarding our August Rode To Reno Show…..
"Thank you SRCHA for an awesome show! Congratulations to all the contestants and their magnificent horses! Spectacular people at the event as well. We made so many new friends! Special thanks to Gay. Advanced PEMF. C R Ranchwear. And Rancho del Sol!!!! Y'all are awesome! Sincerely William and Chance Miller. WAY OUT WEST BOOTS"
"A Big thank you to all the staff for there hard work and patience and to the Youth Sponsors. The youth kids are the Future to our industry!! Safe travels home everyone." Brandy
"Thank you to everyone who helped put this show on ! We had so much fun and really enjoyed it ! Thanks again!"  
"It was exciting to see the 3-year-old cow horses headed to Reno at the SRCHA Rode To Reno Pre-Futurity this weekend."  Kelsey
"Thank y'all so much for providing the live feed so friends and family at home could watch us show."  Allysn
"Thank you all for all of your countless hours of hard work.. From the girls in the office, to the guys working the cattle gate, to the girls running judges sheets, to those that volunteered to hang banners in the arena, to Fletch for LONG hours of capturing the memories, to the Judges for keeping it as fair as possible, for the behind the scenes work that goes on with the board ALL YEAR LONG so that WE can come enjoy our love & passion of this sport.. You truly don't know how much it means.. This association is like no other that I've ever been a part of.. It's a family and I'm thankful to be a part of it.. Again thank you." Sareece
"THANK YOU!!! A huge thank you to everyone who makes this association so great. The Road To Reno show is one that should be on every calendar! "  -Morgan Holmes
Completed my 1st show as a green rider. Had a blast. Thanks for putting on such a well run show." Stephany
Thank you to our wonderful sponsors.  These folks have stepped up for a 3 year commitment to make our event more exciting with added money, prizes and a commitment to keep our show on  great path for the next few years.  Please visit their booths or track them down and shake their hand and thank them for their support.
LOOK AT OUR GREAT SPONSORS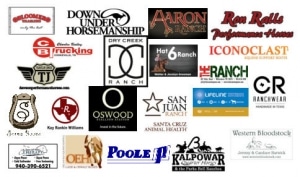 SHOW SCHEDULE FOR 2016
March 11-13
Swing Into Spring Show
2 NRCHA/AQHA Approved Cow Horse Shows
Derby, 3 & 4 yr old Jackpot Futurity (Enter one or all 3 events)
2 AQHA Ranch Riding and Reining
Guthrie, OK – Lazy E Arena
~~
April 8-10
Silver Spur Show
2 NRCHA Approved Cow Horse Shows
Derby, 3 & 4 yr old Jackpot Futurity (Enter one or all 3 events)
Ardmore, OK – Hardy Murphy Coliseum
~~
May 19-23
Wild Rag Cattle Classic
2 NRCHA/ AQHA Approved Cow Horse Shows (4 Judges)
Derby, 3 & 4 yr old Jackpot Futurity (Enter one or all 3 events)
AQHA Ranch Riding and Reining (4 Judges)
NCHA/AQHA Cutting (2 Judges)
AQHA Roping Events (4 Judges)
AQHA Versatillity
Ft. Worth, TX – John Justin Arena
~~
August 17-21
Rode To Reno Pre Futurity & Derby
2 NRCHA/ AQHA Approved Cow Horse Shows
Derby and Futurity
2 AQHA Ranch Riding and Reining
Ft. Worth, TX – John Justin Arena
~~
October 20-23
Fall Festival,
2 NRCHA/ AQHA Approved Cow Horse Shows
Derby and Futurity
2 AQHA Ranch Riding and Reining
Amarillo, TX – Amarillo National Center