Thanks to everyone who donated a stallion breeding to our SRCHA Stallion Auction and for those who purchased them.
~~~~~~~~~~~~~~~~~~~~~~~~~~~~~~~~~~~~~~~~~~~~~~~~~~~~~~~~~~
RODE TO RENO RESULTS Click Here
What a great show, thank you Clinton Anderson for sponsoring our Futurity and supporting SRCHA.
We had a great number of sponsors that helped make this show happen. Walt & Joc Greeman for sponsoring the Open Derby & Non Pro Futurity. Dr. Joe Carter sponsoring our back gate water. Core Balance sponsoring our fun After Party on Saturday night. Our vendors were great as well, with Custom Rawhide Braiding & Dennis Moreland sponsoring some of our prizes.
Thank you to all the exhibitors, trainers, owners for supporting this event.
~~~~~~~~~~~~~~~~~~~~~~~~~~~~~~~~~~~~~~~~~~~~~~~~~~
Vesicular Stomatitis (VS) Updates
2014-07-30_VSUpdates
State Restrictions
2014StateRestrictionsOnTX_VS
~~~~~~~~~~~~~~~~~~~~~~~~~~~~~~~~~~~~~~~~~~~~~~~~~~
YOU CAN STILL ENTER GIVE US A CALL. USE LINK BELOW FOR CONTACT INFORMATION
Gear up for our Rode to Reno Show.
Click below link to go direct to our event page.
https://srcha.org/?tribe_events=2014-rode-to-reno-show
FORMS ARE NOW POSTED ON THE EVENTS PAGE
Deadline for all entries & stalls August 1st.
Minimum $35,000 to the Open Futurity and $5,000 to the Open Derby
Mark your calendars for our August event.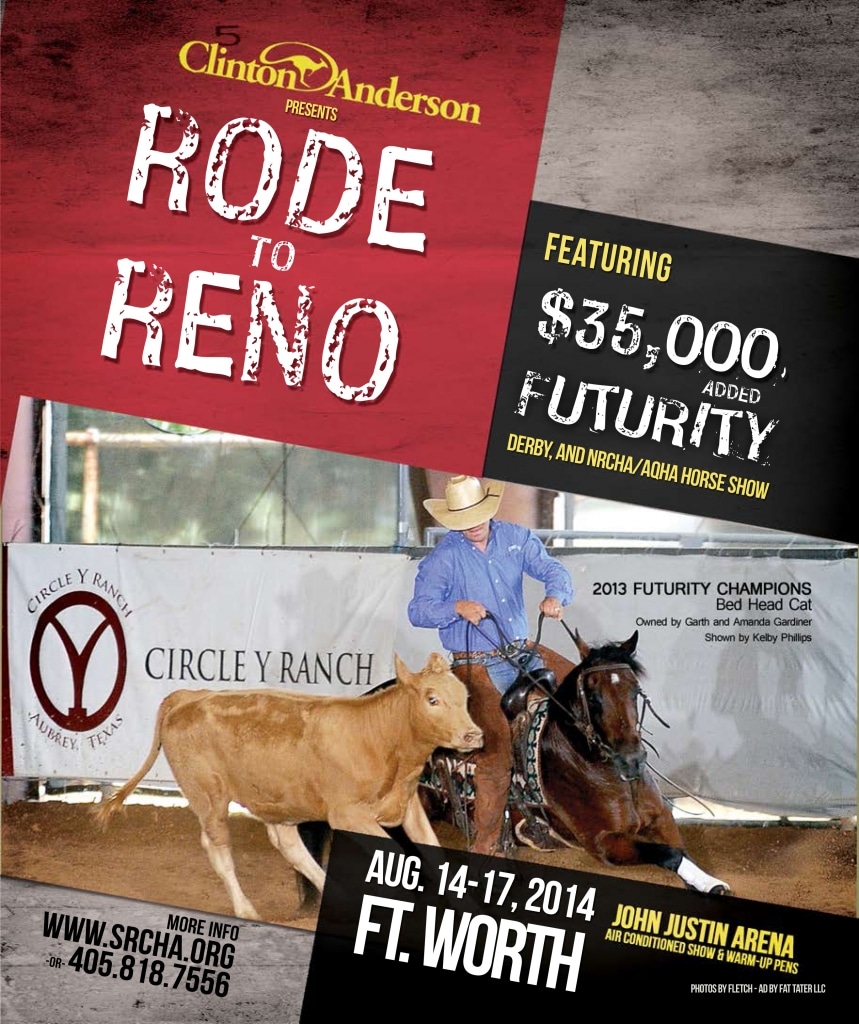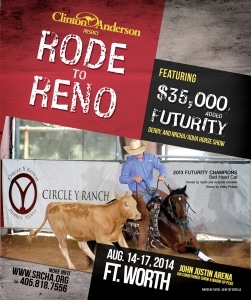 ~~~~~~~~~~~~~~~~
Thank you Clinton Anderson and Downunder Horsemanship for sponsoring the SRCHA futurity last November. We really appreciate your contribution and your committment to SRCHA.
Congratulations to Gardiner Quarter Horses and Kelby Phillips for sweeping the Open, Intermediate Open, Limited Open first 3 holes of the Downunder Futurity and winning over $15000.00
With Hickory Holly Time placing first in all the divisions, Wrightin Checks placing 2nd in all the divisions and Bed Head Cat placing 3rd in all the divisions.
Congratulations to Stuart Bozeman for winning the Non Pro, Intermediate Non Pro, Novice Non Pro and Amateur Futurity riding Chers Live Oak.
It was a fun show and we want to thank the Stock Horse Of Texas folks for hosting the futurity.
~~~~~~~~~~~~~~~~~~~~~~~~~~
What a great show we had in Stephenville this past weekend.
Open Derby winner was Chris Dawson riding A Spoonful O Sugar owned by Cryin Coyote Ranch.
Intermediate Open & Novice Horse Derby winner was Bozo Rogers riding Shiney Play Style owned by Wes & Sara Williams.
Limited Open Derby winner was Robert Forst riding SR Surprise Party owned by Terry Forst
Level 1 Limited Open Derby winner was Ben Baldus riding My Boots Are Tuff owned by W T Waggoner Estate
Non Pro Derby winner was Tammy Jo Hays riding Look At My Guns owned by Walter Greeman & Adelia Burris.
Intermediate & Novice Non Pro Derby winner was Terry Forst riding Seven S Crazy Horse owned by Terry.
Amateur Derby winner was Reba Rogers riding Circle Bar Cutthepay owned by Reba
Open Bridle Spectacular winner was Robert Chown riding Playgirls Miss Grace owned by WW Ranch
Non Pro Bridle Spectacular winner was Jorge Luis Cid riding Peppy Nicolena owned by Jorge.
Non Pro Limited Spectacular winner was James McBride riding Cash From Heaven owned by James & Allyson McBride.
Congratulations to all of our winners.