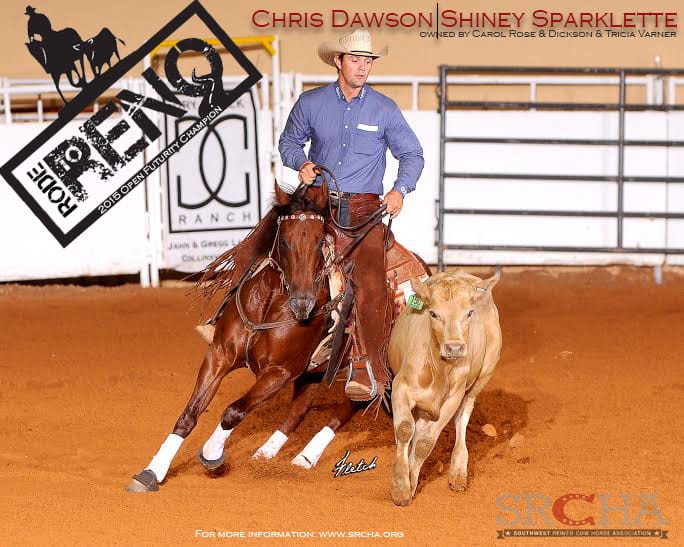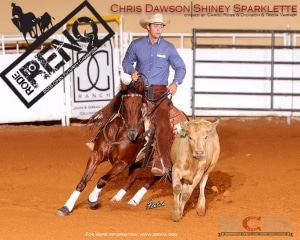 With Rode to Reno 2016 quickly approaching, we would like to take the time to recognize some members of the Reined Cowhorse community and the equine industry that have made this event possible through their generosity.  We have an excellent variety of sponsorship this year ranging from NRCHA Professionals to companies dedicated to the health and wellbeing of our equine athletes.
We would like to start out by congratulating the 2015 Open Futurity Champion, Chris Dawson aboard Shiney Sparklette (owned by Carol Rose and Dickson and Tricia Varner).  Dawson Performance Horses is run by husband and wife team, Chris and Sarah Dawson.  They believe in a solid foundation for each horse that enters their program, which is evident in the sound, great minded and talented contenders that come out of their barn.  One such contender is the 2008 stallion, Travelin Jonez.  "TJ" is sired by the great Smart Chic Olena and out of Travelin With Sass (producer of over $180,000).  TJ himself is an earner of over $175,000, and took the NRCHA by storm in 2013.  In one year he won the NRCHA Stakes, NRCHA Celebration of Champions Derby, NRCHA Jack & Phoebe Cooke Memorial Derby, and was reserve champion at the NRCHA Hackamore Classic Championship.  He is enrolled in NRBC, NRCHA Stakes, AQHA Incentive Fun, and is 5 panel negative.  For more information on Dawson Performance Horses visit their website at www.dawsonperformancehorses.com or Facebook pages at www.facebook.com/Dawson-Performance-Horses.  For information on Travelin Jonez, visit his Facebook page at www.facebook.com/TravelinJonez.
Ron Ralls Performance Horses, located in Gainseville, TX, is dedicated to the training of quality reined cowhorses.  His success in the showpen is evident in his lifetime earnings that exceed $800,000.  Ron is a two time World's Greatest Horseman (2003 and 2004), as well has holding numerous championships and reserve championships.  Ron and wife, Patti, run a superior operation.  For more information, visit them on Facebook at www.facebook.com/RonRallsPerformanceHorses.
World renowned clinician and trainer, Clinton Anderson, currently operates out of his facility in Stephenville, TX.  In addition to producing his television series and instructing horsemanship clinics and Walkabout Tours across the country, he also breeds, trains, and shows his own reining and cowhorses.  Clinton strives to create comprehensive study kits and training tools to make learning horsemanship as accessible and easy as possible.  For more information on Clinton and Downunder Horsemanship, visit his website at www.downunderhorsemanship.com.
Get prepared for Rode To Reno by updating your wardrobe with CR Ranch Wear gear.  This is an outstanding company that has everything you need to stand out in the showpen: men's and women's shirts, Yucca Flats show pads, and Kimes Ranch Jeans.  Each CR Ranch Wear show shirt is professionally sewn in Dallas, TX with hand-done details.  If you are an unusual size, skip the tailor and have the ladies at CR Ranch Wear custom make a shirt to your specifications.  They are currently in Fort Worth at the NCHA Summer Spectacular and will be with us at Rode To Reno.  To order your next show shirt, visit their website at www.crranchwear.com or Facebook page at www.facebook.com/CRRanchWear.
Get the advantage in and out of the showpen with Santa Cruz Animal Health products.   They cater to a large variety of species ranging from livestock to companion animals.  Their equine products include antibiotics, antifungals, critical care products, dewormers, grooming supplies, hoof care products, fly sprays, high quality supplements and vaccines.  Their products are trusted by many competitors and professionals in SRCHA because they were designed by horse owners with the horseman in mind.  They are truly a one-stop-shop in terms of grooming and nutritional products, and will have many of their products offered for sale during Rode to Reno.  For more information on the products they offer, equine and otherwise, visit www.scahealth.com.
Keeping the upcoming futurities in mind, it is important to ensure the health and soundness of our equine athletes.  Iconoclast Equine Support Boots feature a patented Orthopedic Wedge design that works in conjunction with their patented Double Sling Strap.  Combined, these features provide unparalleled 360 degree support of the leg.  Iconoclast Support Boots offer protection against flexion injuries, as well as being an effective tool during rehabilitation from a previous injury.  The beauty of Iconoclast products is that they were developed by equine professionals and leading veterinarians.   Be sure to follow them on Facebook at www.facebook.com/iconoclastboots.
While we're on the subject of health and soundness, I would like to take a moment to recognize one more sponsor and long-time supporter of the SRCHA and Rode to Reno.  Dr. Joe Carter, DVM and Oklahoma Equine Hospital offer specialists in full service health, wellness, rehabilitation, and reproduction.  OEH utilizes state of the art resources and scientific services for horses across the country.  Surgical and lameness treatments are also backed by the latest technologies, so owners and professionals can place their trust in the skilled hands of the OEH veterinarians.  Dr. Joe Carter, DVM is an avid member of NRCHA, NRHA, and NCHA and can often be found at major events to attend to clients.  For more information or to schedule an appointment with Oklahoma Equine Hospital, visit their website at www.oklahomaequinehospital.com.  Be sure to follow them on Facebook as well at www.facebook.com/OKEquineHospital.
Once again, we would like to take the time to thank our sponsors that make Rode to Reno a success.  Stay tuned for more information on our remaining sponsors, and we hope to see you all in Fort Worth on August 18-21 for Rode to Reno.